Experience 5 popular winter sports in Japan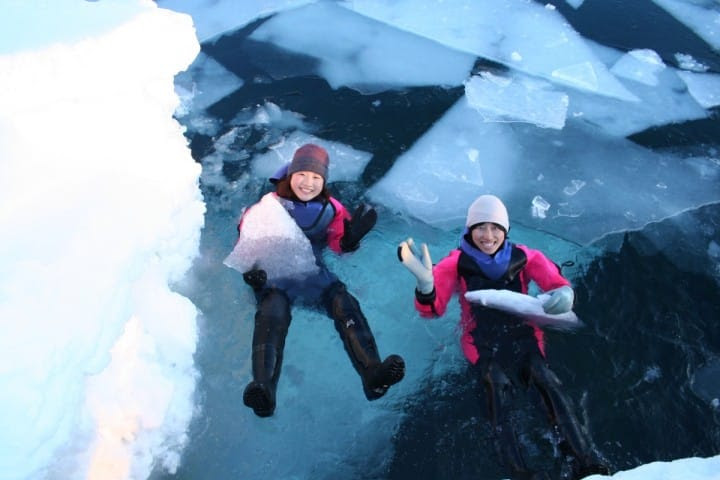 In Japan there are many areas suitable for snow games and winter sports activities such as Hokkaido or Niigata Prefecture. Many tourists come to Japan specifically for the purpose of experiencing sports this winter.
---
However, each region in Japan has a different amount of snow cover, so depending on the destination, you may not be able to experience winter sports as expected. The following article would like to introduce you to the famous places in Japan – where you can experience the fascinating winter sports!
1. Snow trekking
With this sport, you will be equipped with a special shoe to help you walk on soft foam surface easily. Feeling extremely interesting when walking in the white world spread over the snowy mountain, surely you will encounter the landscape that cannot be found everyday. You can experience this Snow Trekking sport at "Kurumayama Kogen Ski Resort" on top of Mount Kirigamine, one of the 100 famous Japanese mountains. Just climb the mountain and feel with your whole body the magnificent natural scenery of the two South Apls and the magnificent North Apls.
2. Walking on ice sea
Shiretoko area in Hokkaido is famous for walking on ice. In the winter, the large sea of ​​Okhotsk in Hokkaido was formed into a thick layer of ice. You will feel the whole world of ice spreading at your feet, and even the Clione jellyfish that are swimming in the sea below.
With fully equipped waterproof clothing and shoes, you can enjoy the sport freely. Because seawater has a push, even if you can't swim, don't worry. The instructor will explain to you thoroughly from how to wear waterproof clothes to how to fully experience this particular sport.
3. Ski with Snow Mobile
Snow Mobile is a motor vehicle that helps you run on snow like driving a motorbike. There is no need for a driver's license when driving within the designated range, so you can start right away. The feeling of winning gravity and acceleration when driving on snowy mountains is great!
"Minakami Kogen Ski Resort" in Gunma Prefecture is a place where you can experience Snow Mobile driving in large areas. Enjoy the snowy landscape along the road when the car moves. You can also experience "Snow Rafting" when sitting on a boat attached to Snow Mobile. It is interesting when the whole family sits on the boat, enjoying the excitement when being dragged by Snow Mobile on the snow.
4. Ice skating
Skating is an ice skating sport with dedicated skates, which are very popular in Japan. At the Olympics, there is speed skating for speed and skating for performance. Even without playing, just relax your body, take a leisurely slide and glide across the ice is a very interesting experience. "White Circus" is Tokyo's largest outdoor ice rink, opened in 2016 at Akasaka Circus. You can skate in the fancifully lit space and enjoy the romantic atmosphere here.
5. Snowboarding
Fixed the foot of the board like Skateboard, you can conquer the snowy slopes with this sport. This is a favorite sport all over the world. In Japan, you can experience snowboarding at local skiing too.
You can skate snow at most ski resorts in Japan, among them I would recommend the "GALA Yuzawa Ski Resort" directly connected to the Shinkansen. There are up to 17 ski yards, so the newcomers to this sport to experienced travelers can experience. There are also individual or group practice classes taught in English for skiing and skateboarding.